Why 3P Concept is required for agro and fresh cut produce industry?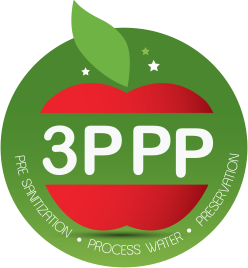 3P is a Pre-Sanitizing, Preservation and Packaging concept; based on a synergy effect of European Patent EP 1301084 and developed PWAM© concept of FOOD freshly® expertise and know-how in Germany.
The first priority of freshly harvested agricultural products is: effective protection against crops post-harvest damage by pre-sanitizing, sterilization or germ freeing/germ blocking. Up to 30% of all fruits and vegetables go to waste, which is caused by crops post-harvest damage. That means a high disposal sales loss. Especially affected are the precious and perishable products. The highest disposal sales loss arises from bacteria, mould, mildew, fungus and rottenness. Measures of agricultural business for the extension of the preservation of agricultural products are an input, which turns to account by the higher sale proceedings and fewer withdrawal (returns or waste) of goods.
This concept based on several aspects: First will test, which possesses quality, have the water with which the raw products are pre cleaned externally before beginning the cutting process. There are big differences in qualities of drinking water. By adding germ-free making/disinfectant and germination agents Fruit Cleaner Antiox® FCA DE-100 in to water we cannot only eliminate the external impurities on the products. Also adhering particle e.g. germs, yeast, mould, bacteria or residue of plant protection agents and other materials, otherwise which are carried along up to the final packing can be fully removed.
The total germ count must be reduced as much as possible before cutting or processing. After cutting the agriculture products they are given to shelf-life improvement treatment dip, in which one of the appropriate Freshness Retainers Formulations are dissolved. The choice of the Freshness Retainer Formulation, the dosage and also the treatment time in the dip are exactly framed out for each product.
In the following step, the processed products - as mono product and/or as mixed products - are packed in food-grade PE-bags, bowls, trays etc. The bowls/trays are sealed with a MAP foil. The selection of packaging materials and MAP foil is decisive as it decides which product has to be packed, how and what is the desired shelf-life extension duration. The foil is like a second skin and differs from product to product in usage.
We understand your exact needs and requirements!
FOOD freshly® Germany offered "Turnkey Project Solutions" from field to eating table based concept for fresh cut produce fruits, salads and vegetables varieties. FOOD freshly® is worldwide "# Number One Ranking and Trusty Trade Mark" for proving turnkey project based services around the world based on 3P concept and PWAM©:
Project planning and implementation guidelines
Market and feasibility study, business plan with SWOT analysis in co-operation of international business consultancy associated partners
Market and sales price calculations on international competitors overview
Process water analysis method PWAM©
Dosing and measurement instruments for FCA DE-100 application
New product ranges testing and developments option at FFG Germany based R&D lab facility
Provision of automatic dipping treatment of fresh cut produce, dosing, measuring and controlling system for Freshness Retainer Formulations
Selection and guidelines for processing plant and machinery for entire agro product ranges
Optimal packing solutions for achieving maximum shelf-life extension of each fresh cuts produce product ranges as per EU, FDA and BFR- recommendation of Germany
Innovative hygiene concept as per HACCP, IFS standards requirements and one active agents based application
Consultancy and management services on temporary and regular terms basis
Our '20 years plus' experience is your key to success at FOOD freshly® One Shop Stop Solutions.
A loyal international clientele who have bestowed their trust upon us. For queries and detailed consultation get to us.